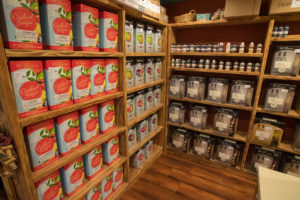 RJ Spagnols Wine Kits this is only a few of what is available!
Cellar Classic Winery Series (Red Wines w/grape skins & oak)
Italian Super Tuscan – Full bodied and dry, this classic Italian Blend exudes aromatics of farm fresh raspberries supported by subtle hints of vanilla and earthy tones. Fermentation on untoasted American oak shavings and Merlot grape skins adds intense tannins to round out the concentrated nose of blackberries and black pepper.

Chilean Carmenère – Medium to full bodied, this wine will tempt you with cherries and strawberries on the nose followed through with dates and chocolate on the palate. Fermented on Carmenère Winery grape skins and toasted oak, this wine can be consumed relatively young, although will benefit with age.

Italian Rosso Eccelente – Fermented on Merlot Winery Grape Skins and Hungarian Oak, this wine will develop into a complex, bold wine. Cherry and plum notes are complimented with cassis and rich tannins lending to a graceful, lingering finish. This wine is sure to have you cheering "Bravissimo" after every sip.

Chilean Malbec – Sleek and focussed with layers of juicy fruit and earthy flavours, this full-bodied wine sets the stage for a dramatic experience. Seductively deep red in colour, aromas of crushed blackberries and vanilla follow through to a densely packed palate richly blessed with streaks of chocolate interwoven with abundant oak tones. Fermented on Heavy toasted Hungarian oak shavings, the finish is dramatic and long.
Grand Cru International Collection
White Wines
Californian Chardonnay, German Gewurztraminer, German Piesporter, Ontario Sauvignon Blanc, South African Chenin Blanc
Red Wines
Italian Brunello – this powerful classic is full and expressive on the palate with lively cherry fruit and a brisk acidity supported by ample smooth tannins. Our Sangiovese Genuwine Winery Dried Grape Skins and oak shavings provide a deep and lingering finish to this garnet wine.

Washington Merlot -This deep intense wine exhibits flavors of cassis and chocolate. Dark and rich with complex notes of blackberries, the Merlot Genuwine Winery Dried Grape Skins bring velvety tannins enhancing the mouth feel and stature of this crimson wine.

Also available: Australian Cabernet Sauvignon, British Columbia Pinot Noir, California Syrah, Chilean Malbec, Italian Barolo
Grand Cru
White Wines
Chardonnay – A full-bodied wine with crisp, green apple bouquet and hearty flavor.

Johannesburg Riesling – A light colored, delicately flavored wine which offers a slight tartness. A hint of lime flavor and spicy bouquet complement the clean taste.

Pinot Grigio – Also known as Pinot Grigio in Italy, this wine is dry with overtones of green melon leading to a crisp, clean finish. A bouquet of honey and herbs competes this experience.

Also available: Chenin Blanc, Gewurztraminer, Liebfraumilch, Pinot Blanc, Riesling, Sauvignon Blanc, Muscato, Verdicchio, Zinfandel Blush
Red Wines
Barolo – Deep in color, high in tannin, full-bodied and robust this wine is intense on the palate.

Bergamais – A fresh wine best consumed in its youth. Cherries and plums fill the nose while sweet cherry follow through to the palate, where it lingers gracefully.

Cabernet Sauvignon – Considered the noblest of all grapes, this full-bodied red is dark in color and aggressive in nature. A hint of violet is present in the bouquet, typical of this variety, it's superbly enhanced with the addition of oak & ages well

Merlot – A smooth rich wine, medium dark in color, with notes of blackberry and currants. A hint of green olive in the bouquet will pleasantly surprise you.

Petite Syrah – This rich, extremely dark wine has note of plum that will entice you. It's high tannins will allow this wine to age gracefully.

Pinot Noir – Award Winning- This rich red wine, hearty in nature and smooth in flavor. The soft texture and dark color complement the flavors of berry fruit, with a subtle raspberry undertone.

Valpolicella – An intense, deep colored red wine boasting a velvety yet fruity flavor with a long, lingering finish. Aging will only add to the complexity of this wine.