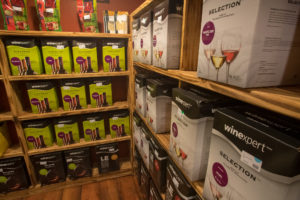 Selection Estate Series -Ultra Premium, 4.75 gal juice, grapes skins & oak
Red Wines
Lodi Old Vines Zinfandel A dry, sturdy, vigorous red wine that is very fruit-forward with flavors of black fruits, cherry, leather and spice.

Napa Valley Stag's Leap District Merlot A silky smooth structure with fruit-forward flavors of plums and red berries accented with spice notes.  A medium-full bodied red wine with soft tannins.

Sonoma Valley Pinot Noir has silky tannins carrying notes of truffle, toast, herbs, gorgeous cassis, black cherry and raspberry flavors with black spice.

Also available: Piedmont Nebbiolo, Lodi Ranch 11 Cabernet Sauvignon, Barossa Valley Australian Shiraz
White Wines
New Zealand Marlborough Sauvignon Blanc this complex white wine offers beguiling aromas of gooseberry, herbs, pink grapefruit, fresh-cut grass, asparagus, lime-leaf, tropical fruit, and passion fruit. Long, rich flavors and a crisp dry finish.

Washington Columbia Valley Riesling A medium bodied wine offering fresh aromas of ripe peaches and apricots, lightly enhanced by Susse Reserve for added fruitiness and a touch of sweetness.

Also available: Mosel Valley German Gewurztraminer, Sonoma Dry Creek Valley Chardonnay (unwooded), and Washington Yakima Valley Pinot Gris.
Selection International – Premium Wines
Red Wines
Australian Shiraz – Very trendy varietal with rich, ripe fruit aromas & plenty of plums, cherries and blackberries with a hint of spice.

Chilean Cabernet Sauvignon – Red and black berries accented with black pepper carry through from start to finish. Medium body with soft tannins.

Chilean Pinot Noir – A bright ruby color with delicate aromas of red berry flavors. Light-medium body and supple with a hint of herbiness, the mouth feel is very elegant with soft tannins and a subtle oak finish.

French Cabernet Sauvignon – An excellent candidate for short-term aging due to its moderate tannins. Deep ruby color with berries and oak on the palate.

Italian Amarone – Deep ruby red wine with a spicy-earthy bittersweet finish that lengthens indefinitely from the huge volume of tannins.

Italian Montepulciano – Deeply colored, rich, red wine with flavors of blackberry and black pepper. Full-bodied with moderate tannins and balancing acidity.

South African Pinotage – Intense fruitiness and peppery spiciness, in addition to a rich plummy character and aromas of red currant and cherry, with a subtle aroma of banana in the finish.

Spanish Rioja – A dry, medium to full bodied red wine with wonderful bright red and black berries, spice and oak. A great cellar candidate for short term aging to soften the tannins and develop its complexity.

Also available: Australian Cabernet Sauvignon, Australian Cabernet Shiraz, Australian Grenach/Shiraz/Mourvèdre, Chilean Carmenère, Chilean Merlot, French Merlot, Italian Sangiovese and New Zealand Pinot Noir.
White Wines
French Chardonnay – An elegant Chardonnay with citrus and fruit nicely wrapped with vanilla and oak.

Italian Pinot Grigio – A bright, crisp, dry white wine with notes of perfume and spice on the nose. Fresh and lively with flavors of citrus and almond.

South African Chenin Blanc- Pale straw color with a green tinge and the aroma of summer melon, this medium-bodied, dry, white wine evokes luscious tropical fruit flavors and has a palate-pleasing, well balanced, crisp, lingering finish.

Also availble: Australian Chardonnay, Australian Murray River Reserve, Australian Traminer-Riesling, Chilean Chardonnay, Chilean Sauvignon Blanc, and German Müller-Thurgau.
Selection Original Series – Premium
Red Wines
Cabernet Sauvignon – A medium-full bodied red wine with aromas and flavors of red and black fruit and light spice.

Merlot – Smooth and silky with plenty of red berries, spice and plums on the palate.

Pinot Noir – An elegant, light-medium bodied red wine with flavors of cherry and spice.

White Zinfandel – A soft, refreshing, medium dry rosé wine with flavors of red berries.

Also available: Barolo Style, Cabernet Sauvignon/Merlot, Luna Rossa, Shiraz/Zinfandel, Valpolicella Style, Vieux Château du Roi, and White Merlot.
White Wines
Liebfraumilch Style – An uplifting floral bouquet with flavors of ripe, sweet fruit with a touch of sweetness and balancing acidity.

Luna Bianca™ – A rich, buttery bouquet with flavors of tropical fruit, vanilla, and oak with a smooth, round mouth-feel.

Symphony – A white wine with the incredibly intense aromas of melon, grapefruit, mango, peach, banana and papaya. The fruity character picks up a strong backbone from the good acidity, and hint of tannin, carried over from the Grenache Gris grape.

Viognier – A medium-bodied aromatic white wine with fresh spring blossoms, peaches and apricots on the nose.

Also available: Chardonnay/Semillon, Gewürztraminer, Johannisberg Dry Riesling, Piesporter Style, and Sauvignon Blanc.
World Vineyard
Red Wines
Chilean Merlot- Fruit-forward aromas of plums and red berries. A medium-bodied red wine with soft silky tannins and a medley of red and black berries on the palate.

French Cabernet Sauvignon – A great cellar candidate. A medium-bodied wine with intense flavors of berry and oak with youthful tannins.

Italian Sangiovese – Sangiovese has a lively finish, with smooth tannins enlivened by a hearty zip of acidity, a dash of white pepper and warm toasty oak.

Also available: Australian Shiraz, California Trinity Red, California Pinot Noir, California Zinfandel/Shiraz, Chilean Malbec, and Spanish Tempranillo.
White Wines
Australian Riverland Reserve – A light-medium bodied white wine with rich ripe fruits and balancing acidity.

French Sauvignon Blanc- A classic Sauvignon Blanc with crisp, refreshing flavors of grass, fresh herbs and citrus.

South African Chenin Blanc – Green apple, tropical fruit and melons, with a distinctly floral nose and a juicy, quenching finish.

Also available: Australian Chardonnay, California Trinity White, German Müller-Thurgau, Italian Pinot Grigio and Washington Riesling.